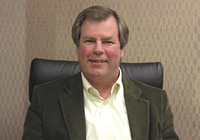 David M. Goldberg, Ph.D.
Dr. Goldberg is the clinical director and founder of Little Silver Behavioral Health. He received his doctorate in Experimental Psychology from the State University of New York at Buffalo in 1981, where he specialized in the areas of human perception and cognition. After he received his doctorate in Psychology he began work as a research associate at AT&T Bell Laboratories. Dr. Goldberg worked on numerous research projects aimed at adapting new technologies to meet human usability and performance needs. Dr. Goldberg's desire to apply the knowledge he learned in the laboratory to helping people in a clinical setting led him to a post-doctoral degree in Clinical Psychology from Teachers College, Columbia University in 1996. He was licensed in the New Jersey the same year. Dr. Goldberg is a member of the Medical and Dental Staff of Monmouth Medical Center and has been in private practice in Little Silver, New Jersey for over ten years. Dr. Goldberg is a member of the American Psychological Association, the New Jersey Psychological Association, the New Jersey Association of Cognitive Behavioral Therapists, and is currently president of the Monmouth-Ocean County Psychological Association.
---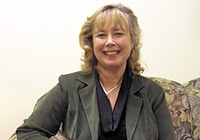 Anita M. Pfisterer, M.S.W., L.C.S.W.
Anita Pfisterer received her Masters in Social Work from Rutgers School of Social Work in 2005, after completing internships in behavioral health and oncology. Anita became certified in hypnotherapy in 1996 and has been a member of the International Medical and Dental Hypnotherapy Association since 1999, focusing on pain and stress management. In 2001, after taking the professional training course for Mindfulness Based Stress Reduction taught by Jon Kabat-Zinn and Saki Santorelli, Anita was the primary investigator for a Rutgers-Riverview Medical Center research project titled "The Efficacy of Meditation on the Coping Responses of Cancer Patients in Treatment." Anita was trained in Biofeedback and Neurofeedback in 2002 and has incorporated relaxation skills into her practice. Anita worked in the oncology department at Monmouth Medical Center and facilitated numerous hospital based support groups including bereavement, oncology caregivers, and widows of the World Trade Center disaster. Anita is a member of the National Association of Social Workers.
---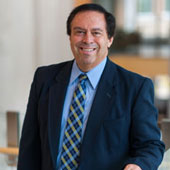 Thomas Massarelli, Ph.D.
Thomas Massarelli was a certified school psychologist working for the Middlesex County Vocational-Technical Schools for 27 years.  He worked with behavioral disordered adolescents and was involved in crisis intervention/prevention, as well as counseling, assessment, and IEP development and implementation. Dr. Massarelli is also the director of the School Psychology program at Seton Hall University.  He has been director of the program since September of 1998.  Dr. Massarelli is involved in research. Among some of the topics he is interested in are: restraint and seclusion in the schools, new advances in teaching and working with Autistic youngsters, and trauma in young children.  Dr. Massarelli was presented the School Psychologist of the year award in 2012 by the New Jersey Association of School Psychologists.  In 2014, Dr. Massarelli received the Distinguished Educator of the Year award from the New Jersey Psychological Association (NJPA) and the Kappa Delta Pi award for Professional Development Chapter Program Award on Autism. Dr. Massarelli is now involved in private practice counseling/therapy through Little Silver Behavioral Health and does psychological assessments for bariatric patients at Monmouth Medical Center.
---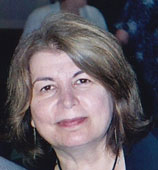 Janet Cervalli, Ph.D.
Dr. Cervalli is a NJ licensed psychologist who holds a doctorate in Clinical Psychology from Seton Hall University as well as a Professional Diploma in School Psychology. She has been a professor at Rider University, supervising school counselors during their internships. Dr. Cervalli spent 18 years as Supervisor of Student Services for the East Brunswick Public Schools, where she implemented programs to address at risk students and their families. She has provided in-service training for teachers and administrators throughout the state on a variety of psychology-related topics. Dr. Cervalli is co-author of the book, All Children Successful, which outlines strategies for coping with behavioral issues in children. In addition to providing psychotherapy to a varied clientele, Dr. Cervalli conducts psychological evaluations for bariatric surgery patients. Dr. Cervalli is a member of the New Jersey Psychological Association and the New Jersey Association of Cognitive Behavioral Therapists.
---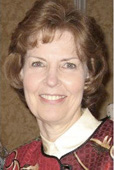 Anita E. Smith, M.S.W., L.C.S.W., L.C.A.D.C.
Anita Smith received her Masters in Social Work from Rutgers University in 2002. The following year, she completed the required educational and experiential requirements to become a Certified Alcohol and Drug Counselor (CADC). In 2005, she completed the cycle and became a Licensed Clinical Alcohol and Drug Counselor (LCADC). In 2008, Anita completed the training to become a Disaster Response Crisis Counselor (DRCC). To date, she has been able to utilize this training in an area school system as well as with soldiers returning from the Middle East. For the past six years, Anita has also worked in the outpatient psychiatric clinic at Monmouth Medical Center. During her time at the clinic, Anita has had the opportunity to work with a wide variety of people who are all trying to deal with the various intricacies of their individual lives and the lives of their families. Anita has worked with these people through individual therapy and family therapy. Anita also co-facilitates a MICA (dual diagnosis) group at the clinic.
---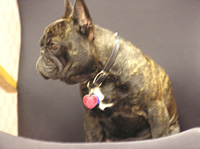 Mr. Ashe
Mr. Ashe (Rippling Waters Rustic Ashe), a French Bulldog, has been a therapy dog since March 2003. He was bred in North Carolina at Rippling Water Kennel by David and Peggy Roderick. After winning several dog shows he retired to become a full-time therapy dog.
---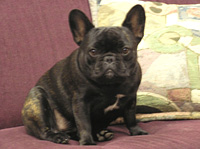 Lucy
Lucy (Rippling Waters Pennyroyal Morgan), our second French Bulldog, was bred by Jo Miller in West Virginia and is distantly related to Mr. Ashe. She too has won several dog shows before retiring to work as a full-time therapy dog.